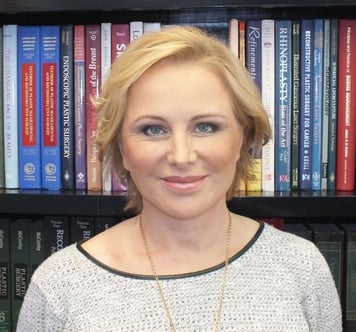 Dr Hertess is proud to offer a unique female perspective at Dr Hertess Plastic Surgery. Her care, dedication, and skill contribute to every patient's holistic plastic surgery experience.
Dr Hertess specialises in all breast surgery such as augmentation, reduction and breast implant related surgery like removal and replacement and explant surgery. Other special interests include body surgery after significant weight loss and skin cancer surgery. A member of the Australian Society of Plastic Surgeons, she offers skill, care and proficiency in all areas of surgical and non-surgical medical treatment as a specialist plastic surgeon.
EXPERIENCE, TRAINING, AND QUALIFICATIONS
Dr Hertess graduated from Melbourne University Medical School in 1986 after completing her science degree. She spent an additional eight years of training in the field of plastic and reconstructive surgery in Melbourne, Adelaide, and Brisbane. In 1993 Dr Hertess obtained her specialist qualification as a member of the Royal Australasian College of Surgeons (RACS) in the division of Plastic and Reconstructive Surgery. In 2014 Dr Hertess obtained her Australian Dermatology Diploma. She is currently completing a Masters of Medicine degree specialising in skin cancer medicine at the University of Queensland.
Dr Hertess and her team of qualified nurses make it their mission to ensure patients feel comfortable in their care and are fully informed of the risks involved with plastic surgery. The key to a good recovery and a positive outcome is preparation!
Here are some important tips to help you choose the right plastic surgeon and enjoy a safe surgery and favourable recovery..
BOOK A CATCH-UP WITH A NURSE



Come into the clinic and have a chat with us to learn more about what we offer and how we work.
This no-strings chat with one of our qualified nurses should be one of the first steps you take.
QUALIFICATIONS
FRACS, ASPS, ASAPS… there are a lot of qualifications to get your head around!
Conduct a little background research to find out, for example, how important it is to choose a FRACS surgeon.
Find out more about choosing your plastic surgeon here.
ASKING QUESTIONS
Nothing is off limits when you speak to Dr Hertess and the team at Dr Hertess Plastic Surgery. No matter how small or insignificant you think your query may be, we want you to feel comfortable asking any kind of question before and after surgery.
If you've been contemplating plastic surgery, we encourage you to take the first step and book your complimentary information session with one of the Dr Hertess Plastic Surgery nurses. Come in and meet the team, view our clinic, and tell us a little more about what you'd like.
From here, we paint a picture of the surgery most suitable for you and can discuss all your options. Contact us today.
Dr Hertess Plastic Surgery is a well-established local surgery which Dr Hertess has been operating for more than 20 years.
Dr Hertess offers an abundance of knowledge in the specialist plastic surgical field and acknowledges the uniqueness of each individual patient.
Her caring nature immediately instills trust in her patients while her entire team provides outstanding pre and post-surgery support.
She follows a fit and healthy lifestyle and recommends the same for all prospective surgical clients.
She enjoys bike riding, boxing, and fitness classes while keeping up with her three adult children.
DR HERTESS' MEMBERSHIPS
Dr Hertess is proud and valued member of the following associations.
DR HERTESS MEMBERSHIPS