Explore Thigh Lift on the Gold Coast and Discover if This Procedure is Right For You
Thighplasty is also known as a thigh lift, and is a body surgery designed to reduce excess skin and fat and to correct and improve the contour of the inner thigh.
Removing excess skin can make a truly positive impact on a woman in many ways:
Thighplasty restores a woman's confidence and can help boost her self-esteem

A woman may feel more confident wearing swimsuits and the type of clothing she wishes

It can be an additional reward following significant weight loss

It can reduce the discomfort associated with chafing or skin irritations
Enjoy a more streamlined silhouette with thigh lift surgery on the Gold Coast.
Who is thighplasty for?
Thighplasty is suitable for women who are generally in good health and at or close to their ideal weight.
It is important to note that no matter your reasons for thigh lift surgery, you must understand that it is not a substitute for weight loss. As such, we strongly advise you to reach your weight loss goals before surgery.
Those who have lost significant weight
Following weight loss the skin of the inner thigh may thin and lose its elasticity. Thighplasty is a highly effective technique that can remove excess skin folds that result after significant weight loss.
Those who are experiencing the natural effects of ageing
The effects of ageing on the skin are hard to ignore.
As part of the natural ageing process, the skin loses elasticity as collagen production slows.
Consequently, you may have noticed the appearance of sagging, loose, or dimpled skin, particularly on the thighs. Thigh lift surgery can correct sagging skin and improve the contour and shape of your legs.
Does a thigh lift remove cellulite?
A thigh lift is not designed to remove cellulite, however the process can indeed reduce the appearance of cellulite as a result of skin that is excised, contoured, and smoothed. It is not guaranteed and is not the purpose of the procedure.
There is no such thing as a scarless thigh lift
It is impossible to perform effective surgery without the risk of scarring. Thigh lift will result in a scar from the groin along the inner thigh in the midline to just above or below the knee.
Over time, gravity can impact the final position of the scars and they may move. It is important that you have a realistic understanding of not only the surgery and desired outcome, but the resulting scars, too.
Scarring is an unavoidable part of almost any kind of plastic surgery procedure, so we want to ensure your expectations are realistic.
What other procedures can be performed in conjunction with a thigh lift?
A thigh lift is one of several procedures designed to target loose and sagging skin, particularly following weight loss. Alongside a thigh lift, patients may show interest in a tummy tuck and breast surgery such as augmentation or lift.
Each of these procedures are popular as part of our 'mummy makeover' experience, which can be tailored to meet your unique needs.
What is involved in thighplasty recovery?
Thighplasty surgery is performed under general anaesthesia and can be done as either a day procedure or an overnight stay in hospital.
It is critical you allow your body adequate time to rest during the healing process. Dr Hertess will provide you with detailed advice and guidance during your recovery period, while our team is never more than a phone call away for any questions or concerns during your recovery.
You will be required to wear compression garments during recovery in order to support the tissue. Generally, driving is not allowed for up to 2 weeks, while light exercise may commence after 6-8 weeks. Your plastic surgeon will prescribe a tailored recovery plan following surgery.
Risk of thighplasty
Every surgery carries risk.
We urge you to take the time to research the processes that interest you and speak to a qualified and experienced plastic surgeon for guidance and advice.
Beyond offering our expertise, we understand that surgery is a personal decision and we insist you ensure the decision is entirely up to you.
We encourage you to ask questions, no matter how big, small, or insignificant they may seem.
You must also understand that no matter how skilled your surgeon, they can never guarantee results. Desired results can be impacted by your unique circumstances as well as recovery.
Thighplasty before and after photos
See some of our patients before and after their thighplasty surgery. Click through to view the full gallery.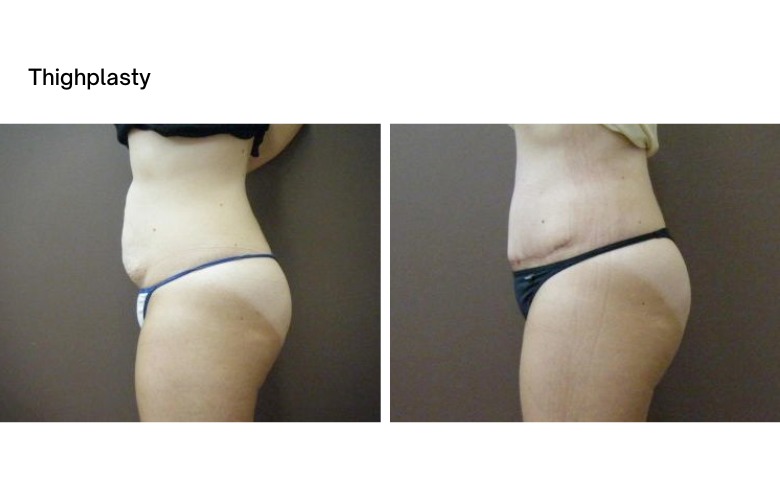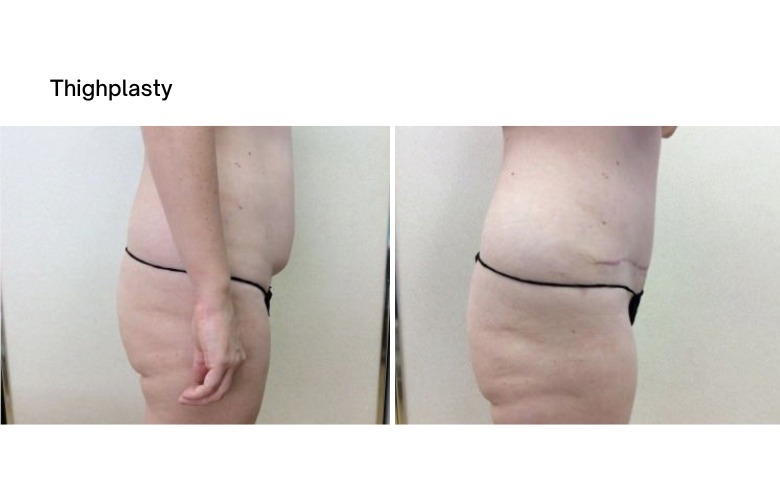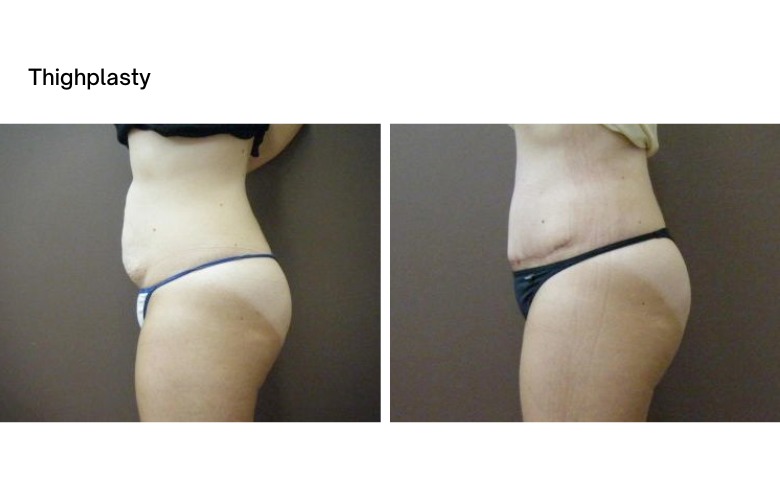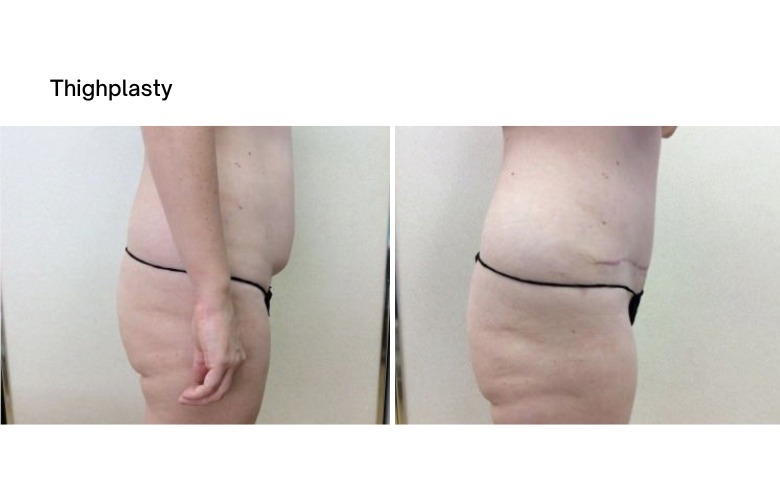 DR HERTESS MEMBERSHIPS